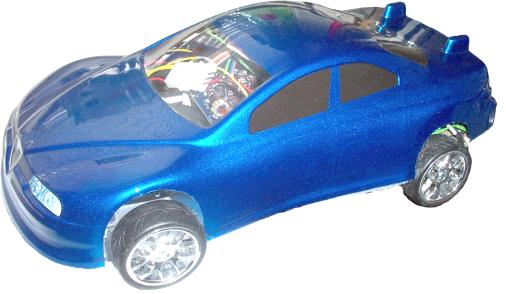 Some years ago in my IT career I had the opportunity for my first bit of public speaking at the annual IT symposium of the Institute of Programmers and Analysts. Not being the outgoing type that was a terrifying prospect, but I was game for some reason with my talk on Linux and cross platform development.
At the time I was also playing with mini-ITX motherboards and combining it with my artistic side to create ways to remove the dull boring boxes that I kept accidentally kicking under my desk at work. I had finished building a mini-ITX PC multimedia system inside a model racing car shell, and I decided it would make an interesting example of cross platform development as well showing something geeky.
I was first up at the symposium and oblivious to who were there (turns out had I looked at the schedule, the BBC were showing off the first HD projectors and so too was the head of Microsoft security). Standing at the front of a large crowd with my car glowing from multiple  blue laser LEDs, I started my presentation, running it of course from the car. I stumbled through the talk, a painful experience, and with much relief made it to the end.
Next was the Q&A session – the test of my nerve that wasn't helped by many people wanting to ask questions. As it turned out as far as I can recall, most only wanted to know about the cool looking car on the podium. Not sure if anyone had actually paid attention to the talk.
How does this daft story relate to now? Diversionary tactics are a great way for malware and other dangerous things to infiltrate. Most of us like shiny things. Anything that makes us go "ooh" usually brings our defenses down. Geeks in particular are susceptible to the next best thing. From the above experience and throughout my IT career I have found that jumping straight into something new without pausing at least for a moment (you know, like read the manual most never do), to think that yes this may be bringing some benefit but what is hidden, what is it not telling me it's doing? Are there things like defaults that needs to be looked at? Are there holes that could be used by the inquisitive or vindictive? Is it all that it appears to be?
A lot of paranoia is bad, but a bit can really make a difference. Not everyone is out to get you, but someone might be if given a chance.
Things I Didn't Know – It Can Be All About Diversion