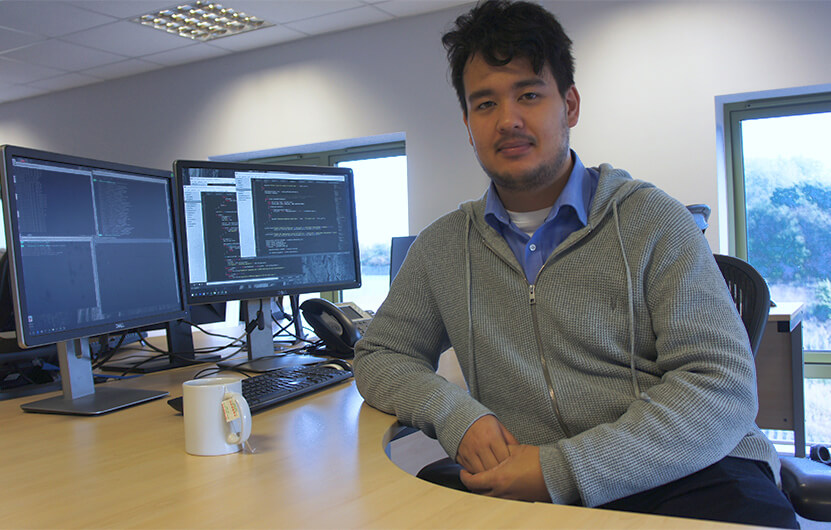 ionCube likes to support university students by offering Industrial Placements, giving the opportunity to gain relevant skills and experience needed for their course and future careers. We recently employed two local students and I caught up with Chris a month on to see what he has to say about working with us.
Hi Chris, please introduce yourself?
Hi I'm Chris, Junior Developer and student at University of Kent and I'm doing a one year placement at ionCube.
What got you interested in computing?
I've been interested in computing for as long as I can remember, it's all about chasing that one childhood dream. I was 3 years old when I got my first game console, I remember the awe and wonder associated with my first ever game. Due to my Dad's job it meant I moved around lots, so it's a bit cheesy to say that the one thing I had to look forward to after school was the fact that I could indulge in a video game. It was from this moment that I knew I wanted to make them.
When I arrived in the UK, IT education was common practice, I instantly felt attached and loved the subject, I just knew this is what I wanted to do. I started programming accidently, I was 8 or 9 at the time and I just googled "making games" and found a fantastic piece of software from Mark Overmars' called Game Maker. I didn't know how to use it or how to program but finding this jumpstarted my future aspirations. I would download other people's games and modify them too.
The community was incredibly friendly and in making games, I found that I loved the act of programming itself, and the problem solving with it. The best part about programming is that it's almost a game in itself. You solve problems here and there and piece it all together until you have a really cool project going. It's just pretty awesome.
That's really interesting Chris!
Why did you pursue an industrial placement while at university?
The university sold it to us as an amazing opportunity. I know that many students, myself included, also realise the gap between the theoretical things we learn at university versus how development is in the real world. The tasks and deadlines we are set are no indication of what me might face in the real world.


I saw the year in industry as a chance to test myself and what I had learnt, as well as a chance to see if I actually enjoy my proposed career choice before jumping right in and figuring that I hate real world development.
Luckily, I love my job.
It's great to hear that you know the benefits of getting real world experience.
What attracted you to ionCube and what do you want to take away from us?
Despite my aspirations to make it big in the real world of gamedev, I wanted to learn what makes a successful environment, to learn from people much more skilled and knowledgeable than myself and I wanted exposure to a vast array of expertise.
Many students at the University said that they learnt more from their year in industry than they did during their actual time at university, this was definitely something I was looking for. I wanted to make the most I could out of this.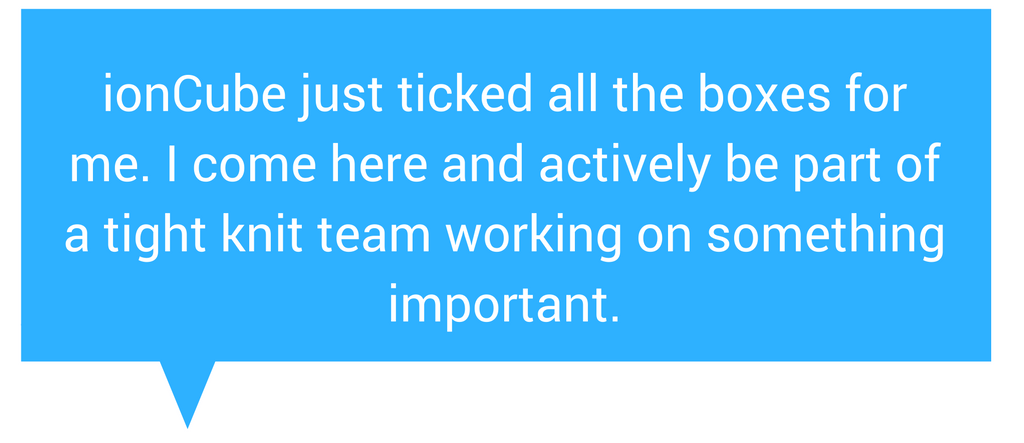 ionCube just ticked all the boxes for me, and when I came in for my interview I was sold immediately. I don't just come in to fix bugs and implement features, I'm also learning from people who are willing to help and teach. I come here and actively be part of a tight knit team working on something important. I've only been here for a month but I've taken away so, so much.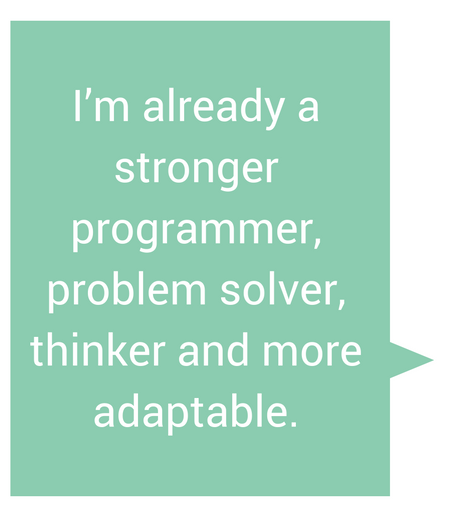 What have you learnt in your first few weeks at ionCube?
I've always been pragmatic about my attitude to development, but I've picked up so much here already. I've improved my javascript skills immensely by actually helping and building features, and I've started to ease off my reliance on jQuery to get things done. I've picked up Angular as a framework and I've had an amazing experience just picking up skills across the entire web stack.
One of the most important skills I've picked up though must be asking the right questions or thinking about a situation in the right way. When I first arrived, there was lots of technologies at work and my thinking was rigid and set to what I was used to. I'd try and use jQuery for everything, it took me an hour to clear a text input!
I'm already a stronger programmer, problem solver, thinker and more adaptable.
Has anything surprised you Chris?
I was surprised at the enjoyment of working on a real product, I realised I'm not doing this as a hobby, this is a real product with real users.
I didn't know what to expect before coming here, which was one of the reasons I applied for a year in industry, but I was pleasantly surprised at how nice and helpful everyone is.
Also, I didn't expect to learn the technologies I was working on so much. At university they'll grind it into your brain before tasking you with anything remotely difficult. In the real world, you just need to adapt and rely not on your knowledge of say Angular, but rely on your knowledge and instincts as a developer.
It's been great, it's an opportunity to learn self-development and be trusted to work on a real product.
That's great to hear.
What would you say to other students about applying for a placement?
Definitely get one. Just go for it!
A few of my friends felt intimidated about not being able to do a good job at their year in industry, to the point where they didn't apply. They need to know that no one's going to blame you if you don't know 100% of what you need to know for the job, or make a mistake. We're students and they realise that.

I will spend more time learning and programming this year than I will ever do at university. What more can you ask for? You get to make, ship and learn a product, creating strong ties with companies and network with a new group of people. You grow up, and it's fun!
If the opportunity is offered to you, take it!
Okay Chris, I'm going to ask that classic question of, where do you see yourself in 5 years time?
Continuing to do what I'm currently doing, and still aspiring to get better every day. I want to take a chance and try making my own gamedev company. I just want to ship a complete game, it's something me and my friends have thought of doing for awhile now. We don't care if we don't get paid or people don't like it, if at least one person plays it, my dream will have been accomplished.
I've even thought about giving back to the community by teaching kids to code. I ran a programming club in my sixth form which was great. We didn't do computing in schools when I was younger, we only did ICT, and while that's great for certain career paths, I wish I was taught to problem solve, to program, and to just make things.
It was great chatting with Chris to see what he thought and how we was getting along. I hope this interview is useful for anyone who is considering an industrial placement at ionCube or other companies in the tech industry.
Interview with Chris – Becoming a Junior Developer at ionCube